Invitation: 9th May - What is the European Dream?
EU14 survey presentation on European Dreams for the Future of Europe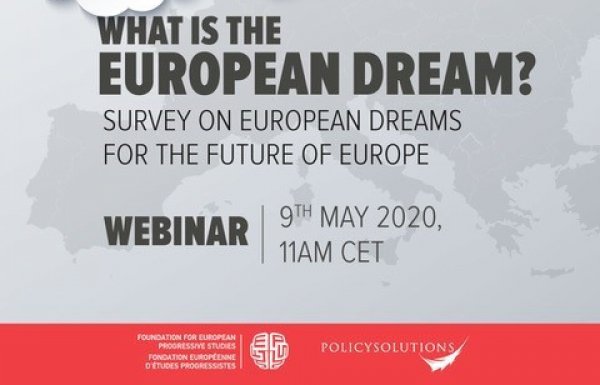 FEPS and Policy Solutions joined forces with the objective of answering the following question: is there a European Dream? And if so, what sort of hopes and expectations do European citizens have for the future?
As part of the FEPS Future of Europe debate series, the EU Dream report will be presented, and its findings discussed.
Join our webinar on the 9 May, 11 AM CET and interact with Europe's leading policymakers that will offer insights to answer this question. You will have the chance to engage with our special guest, Maroš Šefčovič, Vice President of the European Commission responsible for Inter-institutional Relations and Foresight who will share his thinking and ideas on the Future of Europe debate and conference.
Register here to be given the access code to join the webinar: https://us02web.zoom.us/webinar/register/WN_MGNKzx23QZiM-7lXxhEjNA
The full study on the European Dream can be downloaded from here.
Back